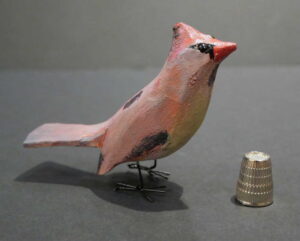 Ivy Billiot is a self-taught artist who hand carves and paints the birds & animals who inhabit his home territory of Houma, Louisiana. Houma is not only home to abundant water and wetlands, but an area rich in the cultural traditions of the United Houma Nation, of which Ivy is a member.
Ivy's father Cyril was also a woodcarver, and much of Ivy's early work was indistinguishable from his father's; carved animals painted in a single color, with just a bit of the animal left bare so the collector would know it was made of wood.
Ivy spent his working life clearing bayous and felling trees for Terrebone Parish, becoming a proficient chainsaw operator – a skill that he uses today to rough out large pieces of wood for his carvings, before going in with hand tools for the precision work. Though he carved throughout this time, it wasn't until retirement that his passion developed and he really found his own voice.
Ivy works from observation, photos in books, and memory, creating carvings that are whimsical yet stunning in detail. His work is in the collection of the Louisiana State Museum.
« Previous Artist:
Doug Frati Next Artist: »
Jack Klippel
Selected Works
Click images to enlarge
Red Winged Blackbird
Hand Carved Wood, Acrylic Paint, Wire Feet
size: 7" Beak to Tail
$145.- (IB436)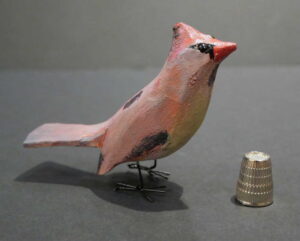 Little Lady Cardinal
Hand Carved Wood, Acrylic Paint, Wire Feet
size: 3 7/8" Beak to Tail
$85.- (IB432)