The use of pottery jugs can be traced back beyond the Roman Empire. In a region like ours, where histories are often oral, tracing the origins of our traditions can be tricky. Face jugs are one of the traditions that are an amalgam of many cultural influences.
Among that rich history is the port of Charleston; the African tradition of using jug pots as headstones was brought to our culture through this port. Highly prized red glaze recipes from China also made their way to our region from the Charleston port. Even from the pubs of England came a long history and influence through their ever-charming Toby mugs.
Face jugs combine the utilitarian influences of early regional pottery with the unique imagination of individual pottery makers. In the mountains of Georgia and the Catawba Valley of North Carolina, ugly faces, snakes, and devils were added to Market Jugs beginning in the late 1800's. These embellished pots were used to buy & store liquor; the ominous features would scare children so they would not be tempted to try the contents.
We don't always have pottery by these extraordinary potters, but we often do, so check back often to see new selections.  IF you would like to be informed when new Face Jugs arrive or notification of our Annual Face Jug Show, either call 828-281-2134, or email us folkart@amerifolk.com
BEN J North has been messing with clay since childhood, encouraged by every teacher he ever came in contact with. Instead of college, he apprenticed with the great Apache potter Felipe Ortega, and afterward wandered the country searching for 'home'. In North Carolina he found the pottery-rich culture and community he had been searching for. He has built his own studio and wood kiln and found good places to dig stoneware clays. "The creation of art has always been my way of connecting to life: the past, present, and future."
CARL Block fuses the spirit of Mexican Folk Art with the creative traditions of Southern Face Jugs, and then turns up the volume.  Bright colors, lavish rhythmic painted textures with unexpected and joyful facial additions set his Terra Cotta clay creations apart from our other face jug makers.Carl spent vacations in Mexico as a child, and he revisits his love of the culture, color and history while creating each face. While he creates he is fully engrossed, breathing / forming / being with each new piece: each one a new life born out of Carl's always full well of creativity. His use of exuberant colors combined with iconic symbols, many from the dark arts, creates a tension that keeps them engaging. The narrative is mysteriously moody, enticing as cotton candy. His jugs are wheel turned, then hand sculpted. He uses Texas dug Earthenware, fired in an Electric Kiln.  They are food-safe-made for serving, not for storing.
JOEL Huntley has been a potter for over 40 years, beginning his pottery business along with his wife Deb, in 1984 in Wisconsin. He has studied pottery at the Art Institute of Chicago & at the Leach Studio Pottery in England. Face Jugs have captured & held his imagination ever since he stumbled upon the tradition. Joel's face jugs capture a fine tuned emotion and his beautiful glazes and decorations set Joel's jugs in a lane all his own.
MICHAEL Ball lives and works in Western North Carolina, home to rich traditions in the making of pottery. Many potters, including Mike, are still hand digging their clay and wood firing in groundhog kilns, just as potters did in the 19th century. Mike learned his trade both from Kim Ellington and Charlie Lisk who in turn learned directly from local master Burlon Craig, the last potter experienced in the earliest traditions of the region.
Mikes face jugs are expressive, each one unique in its facial features and fanciful flair. Following local tradition, he incorporates beautiful glass drips and uses broken plates for teeth. Mike also creates an assortment of utilitarian ware.
MICHAEL Gates is a North Carolina potter and a descendant of a German family synonymous with time honored traditions: The Reinhardt Pottery. He is a sixth-generation potter carrying on techniques while adding his own inspired voice. He studied ceramics at UNC- Greensboro as well as in Australia just before the turn of this century, and upon returning to NC, he worked with several Catawba Valley traditional potters. Michael's pottery is an appealing mix of the aboriginal love of texture and dots and traditional slip decoration. He fires in a wood- fired ground hog kiln, digs his own clay, and, using alkaline glazes, creates functional ware that honors the old, yet pushes toward the future. He sometimes even uses broken Reinhardt pottery shards for teeth.
STACY Lambert studied graphic design and was intrigued by the graphic works of M.C. Escher and the surrealistic works of Salvador Dali. He studied the art of pottery under the guidance of Seagrove potter, Sid Luck. Like any smart apprentice, he learned the technical aspects of firing and glazing from the master, then, as the years went by, he added his own unique talents of painting and graphics to his original creations. His rich color pallet and his three-dimensional interpretations of people and animals are as much fun as a potter ought to have.
STEVE Abee is a Burke County, NC native, one of the younger, talented, and popular potters working in the Catawba Valley. As with so many of the Catawba potters, Abee became interested in pottery making after attending a Burlon Craig kiln sale. By 1994, Steve was in full production and soon after, he earned his potter's credentials by building his own underground wood-fired kiln. He is carrying on traditional southern pottery traditions by creating face jugs, digging his own clay, and mixing his own glazes.
WALTER Fleming, a Presbyterian minister by day, has always been interested in rural tasks and early American craftsmanship. He developed invaluable relationships with well-known potters, such as Burlon Craig and Charlie Lisk, who inspired him to carry on regional traditions. Walter digs his own clay from the creek running through his property, both for his pottery and for his glazes. He resists the temptation to overly stylize his vessels, thus creating pieces that are rooted in the old style, yet uniquely his own.
WAYNE Hewell is a 5th generation potter, and farmer, in the mountains of Georgia. He is part of the Hewell family of Georgia, who have been potters for more than a hundred years. The patriarch of this family was Eli D. Hewell, who established the pottery in 1890. His aunt is Marie Rodgers-the first woman folk potter to independently operate entirely on her own. Wayne's lineage has undoubtedly influenced him. He uses wild clay from Georgia, fires in a wood-fired kiln, and uses Tobacco Spit or Alkaline glazes to create the greenish, runny surfaces on the jugs. Wayne often incorporates humor into the faces by adding grimaces, points to the ears, cigars, etc. Wayne is also known for his swirlware, a process of combining two different clay bodies which result in an amazing striped effect.
« Previous Artist:
Chad Brown Next Artist: »
Kate Waltman
Selected Works
Click images to enlarge
Steve Abee, Off-Kilter Swirl Jug
North Carolina hand-dug wild clay, wood-fired stoneware. Functional.
size: 8" Tall
$325.- (SA59)
Wayne Hewell, Tobacco Spit Chicken
Georgia clay, wood-fired stoneware. Functional.
size: 6 3/8 X 4 1/4 X 11 3/8" Tall
$225.- (WH446)
Wayne Hewell, Snaggle Tooth Devil
Georgia clay, wood-fired stoneware. Functional.
size: 6 1/2" Tall, incl. corn cob
$110.- (WH462)
Wayne Hewell, Glass Drip Butter Churn
Georgia clay, wood-fired stoneware. Functional.
size: 14 3/4" Tall
$185.- (WH453)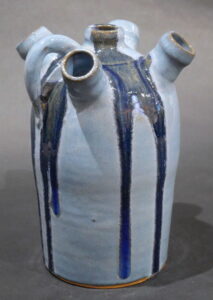 Wayne Hewell, Cobalt Drip Wedding Jug
Georgia clay, wood-fired stoneware. Functional.
size: 10 1/8" Tall
$125.- (WH452)
Mike Ball, Hard to Handle Face Jug
North Carolina hand-dug wild clay, gas-fired stoneware. Functional.
size: 9 1/2" Tall
$300.- (BAL410)
Wayne Hewell, Swirlware Pitcher
Two kinds of Georgia clay, wood-fired stoneware. Functional.
size: 7 1/2 X 7 7/8"
$95.- (WH448)
Carl Block, Dinky Little Face Jugs
Electric-fired Earthenware
size: 1 3/4" approx. Height
$ 45.- Each (CB222)
Michael Gates, Click-Bait Buggy Jug
North Carolina hand-dug wild clay, delicately slip-decorated, electric-fired stoneware. Functional.
size: 7 1/2 X 4" Tall
$675.- (MG109)
Wayne Hewell, Miniature Face Jugs
Georgia clay, electric-fired stoneware. Functional.
size: 2 1/4" approx. Height
$ 40.- Each (WH138)