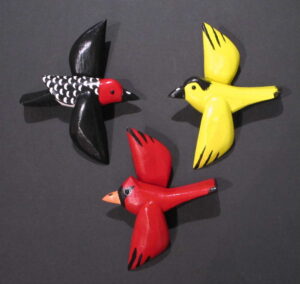 Lonnie and Twyla are retired cattle farmers in Kentucky; the converted milking barn serves as their studio. The Moneys create whimsical depictions of both wild and domestic creatures, carving and painting wondrous pieces that range from smaller ornament-sized pieces to life-sized sculptures full of character and playfulness.
During Lonnie's earlier artistic pursuits, he would carve many small animals, paint them, and show his family and friends. His audience reacted with both delight and a bit of confusion, as his carvings displayed the amazing detailing and scale still present today, yet the colors he chose were never 'quite right'. This was when Lonnie discovered he was colorblind.
During this period in the early 90's, Twyla began assisting Lonnie, expanding their output and taking over most of the painting responsibilities. They have been co-creating ever since, producing the highly distinguishable and finely crafted, carved, and painted animals for which they have become well-known.
If you would like us to notify you when we have more of Lonnie & Twyla's wood carvings, just send an email to: folkart@amerifolk.com
« Previous Artist:
James "Buddy" Snipe Next Artist: »
Minnie Adkins
Selected Works
Click images to enlarge
10 Bird Tree
Hand Carved Wood, Acrylic Paint, Wire Feet, Natural Rhododendron Branch, Wood Base
size: 32" Tall
$575.- (LM286 - Shipping Unavailable)
Golden Glam Snake
Hand Carved Wood, Acrylic Paint, Metal Tongue
size: 41 1/2" Tongue to Tail
$235.- (LM280)