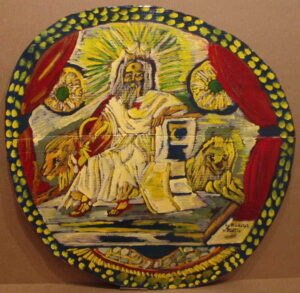 At nearly 80 years old, on June 4th 2021, the world lost Visionary painter Rudolph Valentino Bostic. A self-taught artist from Savannah, Georgia, Rudy Bostic created vibrantly colored paintings on cardboard.
Known best for his biblical images, Rudy noted that he did enjoy watching TV, with elements of popular culture showing up frequently in his work, sometimes as stand-alone themes or worked into his biblical stories. At least he was watching educational television, and the viewer knew when Rudy had been watching the travel channel or the history channel.
Art books borrowed from his local library also gave Rudy inspiration, integrating stylistic elements from old masters, from chiaroscuro to cubism. Rudy's bold sharpie marker lines, vibrant colors and metallic paints lend his paintings a quality reminiscent of stained glass.
Mr. Bostic began his adult painting career while working in a bakery; he noticed images of Jesus and other biblical themes on certain boxes that came into the bakery filled with ingredients. He asked if he could take these special boxes home. Once there, he painted out what he alone could see in the cardboard…a true visionary, his work is now a part of the permanent collection of the High Museum of Art in Atlanta, GA.
Rudy's use of inexpensive materials reminded us of other southern self-taught artists such as Jimmy Lee Sudduth or Sam Doyle. But his flamboyance, his breadth of subject matter and his varied artistic influences put Rudy Bostic in a class by himself.
The paintings on this page will be the final selection of Mr. Bostic's incredible work that we will have in the gallery. As we bid goodbye to our dear Rudy, his essence still exists for us through his paintings, and we are grateful for that.
« Previous Artist:
Peter Loose Next Artist: »
Trés Taylor
Selected Works
Click images to enlarge