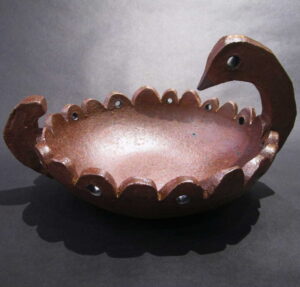 Shawn Ireland is a potter whose work contains both history and wonder. He creates pieces that are sculptural yet functional, with a foundation in folk tradition.
For years, he made his home near the acclaimed Penland School of Crafts, where he was a resident artist. In 2022, he 'decamped' to Athens, Georgia. While Shawn continues to combine NC materials into his hand-mixed clay bodies, he is searching for more local GA materials to incorporate. Wild clay and mineral additions add a rustic charm and deep sense of place to his clay and glazes, which are comprised of NC feldspar, TN ball clay, and ash from his woodstove. The new GA kiln is fueled with natural gas and wood salvaged from a nearby furniture factory
The combination of wood flame and ash can produce colors and surfaces reminiscent of objects found in nature. Like these objects, wood-fired pots can look similar to each other, but never identical. For Shawn, the variation and unpredictability of the final glaze is the most exciting part of the whole process.
"I find beauty in the simplicity and usefulness of folk pottery.  To me, pots from pre-industrial cultures worldwide embody the spirit of a life less encumbered. The ingredients promote surprises and keep my craft connected to the natural world."
Shawn has traveled extensively to further his knowledge of regional pottery traditions. Living in Italy and exploring rustic Italian pottery ignited a new passion for adding figurative and sculptural elements to his functional ware.
« Previous Artist:
Kim Ellington Next Artist: »
Vicki Miller
Selected Works
Click images to enlarge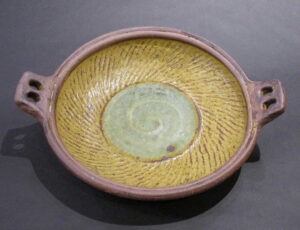 Two-Handled Lakeside Server
North Carolina hand-dug wild clay, wood & gas-fired stoneware. Functional.
size: 13" Across
$165.- (SIP1840)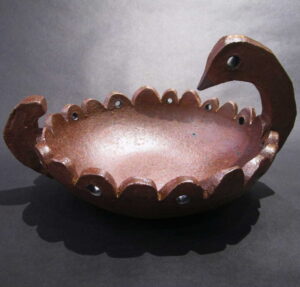 Scalloped Duck Bowl
North Carolina hand-dug wild clay, wood & gas-fired stoneware. Functional.
size: 11" Long, 6 1/2" Tall
$250.- (SIP1830)