Before he even started school, Jackson Hammack was painting. Laying canvases on the floor of a friend's attic throughout his childhood led him to develop his techniques of puddling and layering paint to create his scenes. Throughout his life, painting remained an internal force that demanded expression – no matter what other career Jackson was currently pursuing.
Though early in his painting journey he portrayed abstracted human figures, he now primarily draws his inspiration from the natural world; his location determining the animals that appear in his work.
Currently residing in the mountains of North Carolina, woodpeckers, deer, bears & owls are common occurrences. The animals are often depicted alone, against a bold background, staring at the viewer.
Jackson paints the eyes of the animal first, saying "My paintings allow you to look straight into the eyes of a bird, or bear, or deer and connect with this communal life force… But if I cannot capture the bird or animal's life force from the beginning, no amount of other work on the canvas will matter."
« Previous Artist:
Ellie Ali Next Artist: »
Jim Gary Phillips
Selected Works
Click images to enlarge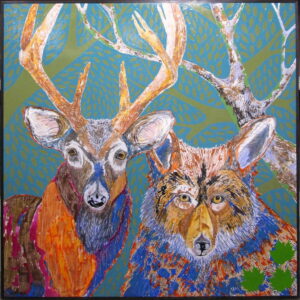 Loyal Protection
Layered Oil & Acrylic Paints on Masonite, Frame Built by Artist
size: 49 X 49" - Framed Size
$4,800.- (JHK105)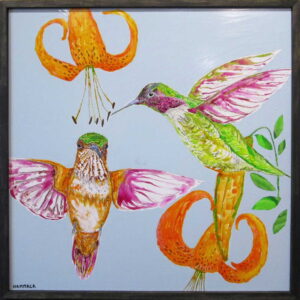 Grace, Gratitude & Joy
Layered Oil & Acrylic Paints on Masonite, Frame Built by Artist
size: 31 1/2 X 31 1/2" - Framed Size
$1,800.- (JHK103)