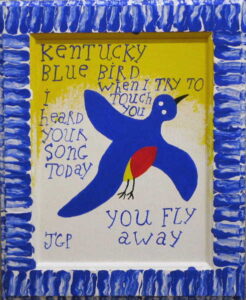 Born in 1951 in Southern Kentucky, Jim Gary Phillips has worked a variety of odd jobs most of his life—factory, construction, surveying, pipeline; usually 2 or 3 jobs at a time just to make ends meet.
His first artistic influence came from his grandfather who spent winters making walking sticks.   More recently, he was inspired by Minnie Adkins, a well-known woodcarver from Eastern Kentucky.  Soon after meeting Minnie and Garland Adkins, he had the opportunity to travel around the Southeast and almost by accident stumbled into several artists' studios and eventually ended up at the Folk Art Center in Morehead, Kentucky.  After that visit, Jim Gary realized he felt inspired and began acquiring paint, and eventually stumbled on the idea of painting on kitchen cabinet doors that he continues to paint on today. Jim Gary Phillips' ideas include memories from his childhood, Kentucky musicians, local legends and religious themes.  He likes to say "I am not an artist, I just paint pictures. I just paint what comes to me and maybe get somebody to think about it."
Jim Gary and Norma Jean Phillips raised a beautiful family together in Southern Kentucky, where Jim Gary lives today, a recent widower, he has rightly slowed his painting pace, but when he is inspired to tell us another story he will again set at his kitchen table and share with us more stories, dreams and delights.
If you would like us to notify you when we have more of Jim Gary's paintings, just send an email to: folkart@amerifolk.com .
« Previous Artist:
Ellie Ali Next Artist: »
Karl Mullen
Selected Works
Click images to enlarge